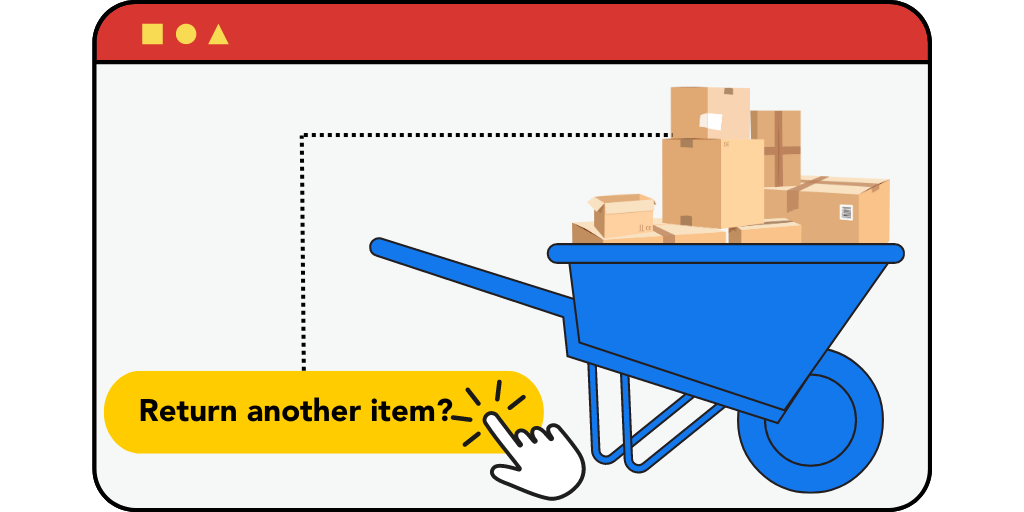 How to Manage eCommerce Returns for Apparel Brands
eCommerce has revolutionized how we shop for clothing, offering unparalleled convenience and a wide variety of options. However, one major challenge apparel brands face is the high rate of returns, which negatively impacts the business, affecting everything from revenue to customer satisfaction. Here, we explore the top reasons behind online apparel returns, looking at real-life case studies and practical strategies for managing and preventing returns, focusing on how AI-fit technology will help streamline the customer experience and minimize return rates.
The Impact of Online Apparel Returns:
"Shoppers return 5 to 10 percent of what they purchase in-store but 15% to 40% of what they buy online," David Sobie, co-founder and CEO of Happy Returns, told CNBC.

According to a study by the National Retail Federation, the return rate for apparel is estimated at 12.2%, and apparel returns cost the industry approximately $93 billion in 2021. A study by Coresight Research indicated that the average return rate for clothing ordered online is 24.4%, nearly eight percentage points higher than the overall online return rate. With high return rates, especially via a brand's eCommerce channel, the negative consequences include:

1. Increased costs:

Processing, shipping, and restocking returned items can add up, cutting into profit margins. According to research by Coresight, when apparel retailers envision a zero return rate, they see a 20% boost in their bottom line, showing how reducing returns can significantly impact a brand's bottom line.


2. Environmental impact: The transportation and packaging associated with returns contribute to greenhouse gas emissions and waste. "To give an idea of the scale, consider these recent statistics from the British Council of Fashion: 23 million items that were returned last year in the UK alone were sent to landfill. That's a lot of clothing for one country to throw away, and that disposal alone accounted for around 750,000 tonnes of CO2 emitted." In the US, the high environmental cost due to total returns contributes an estimated 15 million metric tonnes of CO2 to the atmosphere annually while generating 5 billion pounds of landfill waste.


3. Damaged reputation: Frequent returns may indicate poor product quality or sizing issues, leading to customer dissatisfaction and loss of trust. According to a Coveo survey of 1,988 shoppers, approximately 73% of consumers will ghost a brand after three or fewer negative customer service experiences.




Real-life Case Studies:
Men's Wearhouse: When it comes to important moments in life, finding the right fit goes beyond a number. Men's Wearhouse recognized the importance of giving customers the confidence to shop for these momentous occasions. By integrating a sizing solution for its online tuxedo rentals, the menswear brand enabled customers to seamlessly connect to their best fit - without the guesswork. The result is a personalized sizing solution that reduced average return rates for tuxedo coats, pants, and shirts by 47% while personalizing the fit experience for its online shoppers.






Canada Goose: The luxury outerwear apparel brand from Canada has integrated a

'Find My Size' tool

on some of its key products to help connect shoppers to their best size quickly and accurately. As a result of implementing this AI sizing solution, the brand has seen a 21% decrease in average return rates from users interacting with the tool via its website. The addition of a seamless sizing solution for the brand's eCommerce platform has improved the customer retail experience around finding their size while reducing returns and mitigating bracketing behavior around a high-ticket item.


Interested in how Bold Metrics has helped brands like yours improve conversion and drive down returns? Check out our content hub.
Strategies for Managing and Preventing Returns:
Improve product descriptions and images:
Ensure product listings include detailed descriptions, accurate sizing information, and high-quality images to help customers make informed decisions. Premium activewear brand Vuori, for example, provides clear and compelling visuals to accompany each product, along with model fit and sizing details that are complemented with an AI sizing solution to help shoppers easily discover their best size.

Implement virtual sizing or fit technology:
Incorporate AI-driven solutions like Bold Metrics to offer personalized fit recommendations and minimize sizing-related returns. See how modern scrubs brand Jaanuu makes fit a prioritization for its healthcare professionals and how incorporating Bold Metrics' AI enables the brand to provide an optimal experience, and product, for their customers.

Leverage customer feedback:
Analyze return data and customer feedback to identify trends and areas for improvement in product quality, sizing, and descriptions.
Optimize return policies and provide seamless customer support:
According to a survey of 1,000 U.S. online shoppers in December 2022 by Loop, 98% of consumers agree if a retailer provides a fast, convenient, and hassle-free return experience, they're more likely to shop with them in the future. Provide prompt and effective customer support to address sizing inquiries, product issues, or concerns related to returns while establishing clear, customer-friendly return policies that balance the brand's and customers' interests.
Focus on sustainable practices:
By leveraging technology to connect customers to their best fit with accuracy to create fewer returns, apparel brands can improve sustainability efforts quantifiable. According to research by Forbes, 62% of Gen Z consumers prefer to buy from sustainable brands. Beyond less packaging and eco-friendly materials used to create products - tackling apparel returns is a low-hanging challenge for brands looking to reduce the carbon emissions from transporting and processing these returns.
Conclusion and… a Call to Action:
The high rate of online apparel returns presents a significant challenge for brands. By understanding the reasons behind returns and implementing strategies to manage and prevent them, apparel brands can reduce costs, minimize environmental impact, and enhance customer satisfaction.
Investing in the correct virtual sizing solution or fit technology can be critical in addressing the return issue. By offering accurate, personalized fit recommendations, these tools can significantly reduce return rates and improve the overall shopping experience for customers. If you're an apparel brand looking to optimize your eCommerce returns process, consider incorporating a virtual sizing solution to streamline the customer experience and minimize return rates.
Interested in how integrating an AI sizing solution like Bold Metrics will impact your brand's conversion, revenue, and returns? Drop us a message today.