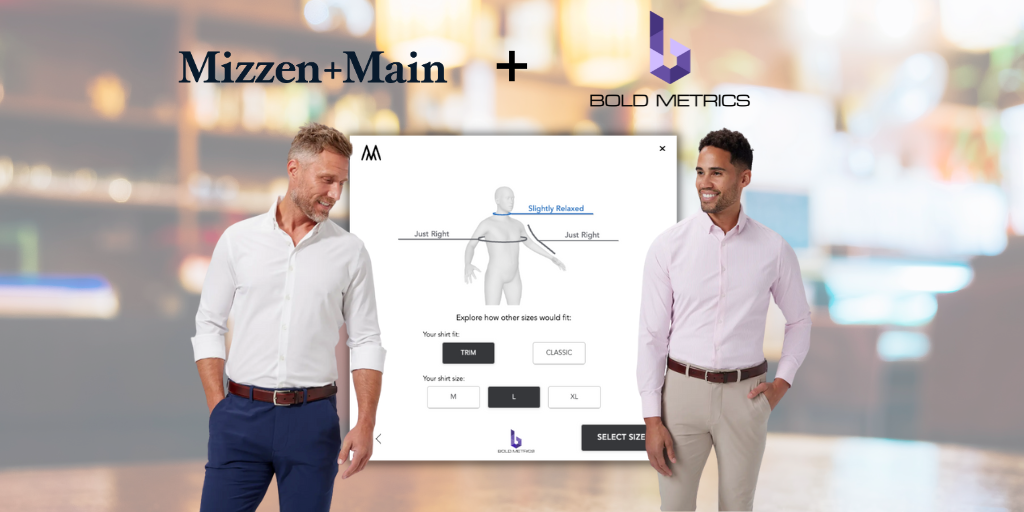 Bold Metrics and Mizzen+Main Redefine Performance Menswear Fit
Bold Metrics is proud to announce we are now helping performance menswear company Mizzen+Main redefine performance menswear fit with our AI-driven Smart Size Chart.
Mizzen+Main shoppers can now use the Find My Size solution powered by Bold Metrics' AI-driven Smart Size Chart to quickly and accurately find the best size for their preferred fit.
Mizzen+Main combines performance fabrics with modern silhouettes to create clothes that look great and feel even better. Originally known for The Best Damn Dress Shirt, Mizzen+Main now creates multiple lines of apparel, helping men feel a lot more comfortable and even more confident.
"Mizzen+Main blends performance and comfort, and there's nothing more essential to comfort than fit," explains Daina Burnes, CEO of Bold Metrics. "Our AI solutions create a digital twin of each shopper, determining over 50 unique body measurements through a simple survey. Garment data on a per-style basis is also taken into account and the result is an accurate size recommendation along with indications on how the garment will fit across points of measure critical to fit for that specific style."
It's been shown that 48% of shoppers bracket when sizing options are not clear, and 26% bracket when they aren't familiar with the brand (Statista).
"By helping Mizzen+Main customers take the guesswork out of finding their size and taking into consideration fit preferences, new and existing customers can trust that their purchase will fit well, which reduces bracketing, increases conversion, and lowers return rates," Burnes adds.