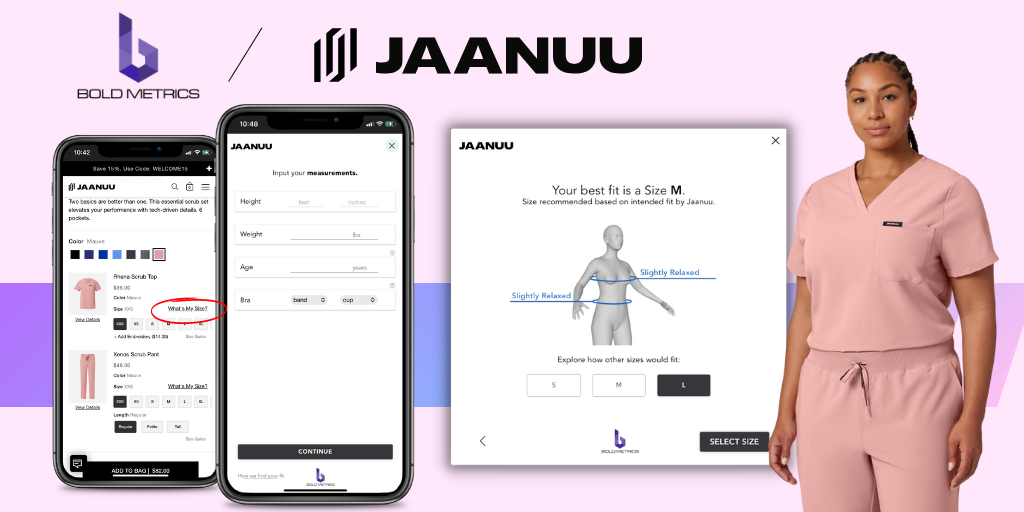 Bold Metrics & Jaanuu unlock the science of fit for healthcare scrubs
Determining the right size is essential when shopping online for apparel. But when the product in question is medical scrubs, getting the right fit makes the difference between being able to perform your best in critical situations. This is why we are excited about powering fit and sizing at the modern scrubs brand for healthcare professionals - Jaanuu.
To say that fit is a priority at Jaanuu might be underselling it. The brand dug deep, drawing on studies of the body in motion, various wear and stress tests, inclusive body metrics, and physiological data points from healthcare professionals. Its new Fit Guide is a testament to its emphasis on getting fit right - not just for aesthetic reasons but to provide performance, comfort, and durability. And if you wished to do a HIIT class between checking in on patients, you wouldn't need to change. The R&D team at Jaanuu has zeroed in on the Six Core Movements—squat, bend, rotate, push, pull, and reach to create apparel that, in their words, "assist the healthcare professional move seamlessly on the job with zero distractions." Boom.
If you couldn't already tell, at Bold Metrics, we absolutely love this level of passion and precision when it comes to body data and fit. Accuracy and ease of use are what our solutions deliver when solving sizing at scale with AI, which is why we are so excited to team up to power sizing at Jaanuu. The new 'What's My Size' tool aims to revolutionize how healthcare professionals find their ideal size when shopping for the brand's apparel online.
Wait, but how?
We know you might have questions, like how exactly does this seemingly 'magical' technology work? Why would this be accurate? And how exactly does it take into account my fit preference? It's easy. Ok, wait, that's not true. The technology behind this is extremely difficult, but it is easy for us at Bold Metrics because we've been doing this for almost a decade - and you know what they say about practice makes perfect.
Leveraging the power of artificial intelligence, Bold Metrics harnesses an extensive database of body data. It applies advanced machine learning algorithms to generate digital twins of Jaanuu's shoppers to deliver a highly personalized fit experience. This innovative approach enables healthcare workers to find their best size according to their individual body measurements to ensure optimal comfort and functionality. And did we mention that these size recommendations are made on a per-style basis? Bold Metrics determines a shopper's measurements and layers that data against a specific style. It contextualizes the fit so a shopper can accurately visualize precisely how a scrub top or pants would fit across their body at critical points of measure.
"We are delighted to partner with Jaanuu, an industry leader in the design and manufacturing of modern, high-quality scrubs," said Daina Burnes, CEO of Bold Metrics. "Our shared commitment to innovation and customer satisfaction has driven us to push the boundaries of traditional sizing methods to provide an elevated and personalized online sizing experience for healthcare professionals."
With the inclusion of the 'What's My Size' tool powered by Bold Metrics, Jaanuu further emphasizes its' prioritization of fit and sizing to provide an unparalleled level of personalization, setting a new benchmark for customer satisfaction.
But don't just take our word for it - try it for yourself here.