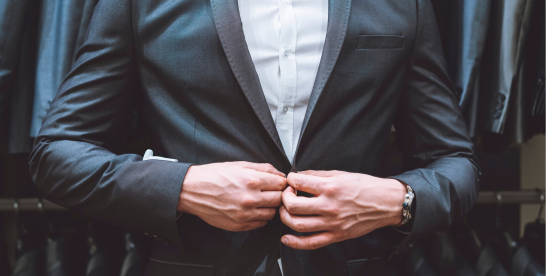 3 Ways AI Sizing Can Help Your Suit Shoppers Find the Perfect Fit
Weddings are special occasions that demand impeccable style and a perfectly fitting suit. But finding that perfect fit is easier said than done. Custom suits can be prohibitively expensive, while off-the-rack suits don't always cater to specific measurements or differences in body types. Then there are people who simply don't have time to shop in-store. All of this uncertainty around sizing can lower confidence in your brand and deter new customers from giving you a chance in the first place. And we all know that when it comes to weddings, a "good enough" fit won't cut it.
Thankfully, advancements in AI have hit the sizing industry, making the suit-buying process easier, accurate, and more convenient than ever before. Below, we explore three ways suit companies can leverage AI sizing technology to streamline and improve the wedding suit shopping experience so that grooms, groomsmen, and wedding guests find their perfect fit every time.
1. Use Machine Learning To Ensure Accurate Fit Recommendations
Machine learning technology is one of the most important components for ensuring that an AI sizing solution is providing highly accurate sizing recommendations. By using customer body data to create a library of digital twins, algorithms can quickly determine over 50 body measurements to recommend the most suitable sizing for your customers. For Bold Metrics, this data-driven approach results in precise and accurate recommendations that are similar to what you would get from a Master Tailor — but without the potential for human error. This level of accuracy also builds customer confidence in their purchasing decision.
2. Make It Easy For Customers To Find Their Fit
Perhaps most importantly, it must be easy for the shopper to find their size and be able to see how the garment will fit them to accommodate for fit preference.
Men's Wearhouse, the largest specialty menswear retailer in the United States, found that the self-measurement approach for their online tuxedo rentals was very inaccurate. The company decided to implement Bold Metrics' AI sizing solutions for all online fittings and decreased their return rate by 47.4%, on average for tuxedo coats, pants, and shirts.
Daniel Carpenter, Sr. Director of Digital Product Management for Tailored Brands (Men's Wearhouse's parent company), said in a recent webinar that Bold Metrics' technology has been "paramount" for the company's success.
He added that "having a world-class solution that's able to accurately fit our customers quickly from the comfort of their own home is a game-changer and allows us to sit very competitively in the market."
3. Continue To Collect Data To Optimize Operations and Design
But helping your customer find their best fit is not the end of the road: Continue to collect data on sizing accuracy and returns to continuously improve the sizing process. Your sizing solution should be able to help you identify common sizing issues between your fit model and actual customers so that you can take steps to address them.
Carpenter noted how important data collection is to Tailored Brands. "The constant data feedback loop is such an important part for us in our fit technology goals," he explained.
"Consumer preferences are changing and customer bases are evolving… having constant model updates that use the latest and greatest sets of data for fit is important so that we can incorporate fit model updates on a quarterly basis."

- Daniel Carpenter, Sr. Director of Digital Product Management, Tailored Brands
AI and machine learning sizing technology has made the suit-buying process easier and more intuitive — for both brands and their shoppers. By incorporating these sizing solutions and providing an exceptional customer experience, suit companies no longer have to rely on confusing size charts and unreliable scanning or self-measuring tools. Ensure that your customers can confidently step into their special day looking their best.
Listen to Episode 1 of the BOLD Brands podcast to hear about how the co-founder of SuitShop — the premiere destination for affordable, size- and gender-inclusive, and yours-to-keep suiting — is leveraging AI sizing technology to accurately fit their customers and grow their brand.