3 ways brands can use AI to boost conversion & personalize retail
Here are three ways apparel brands can leverage AI to solve sizing, drive sales and improve the online retail experience for shoppers.
Apparel brands are in for a tough year. Stores are sitting on a record $732 billion of merchandise due to excess inventory and slowing consumer demand triggered by high inflation. Supply chain challenges, shopper spending slowdown, and overstocked inventory compound the pressure apparel companies are under to drive sales and hit revenue targets. For clothing-based brands and retailers, a vital way to boost conversion is by personalizing fit and sizing for shoppers and creating an easy way for customers to find their size accurately.
This is where AI and Machine Learning technologies can really give brands a meaningful boost. The data-led insight and automation of current AI sizing solutions, along with how machine learning-trained models generate increasingly accurate results over time without requiring as much input data, means that brands with the right AI-powered fit strategy in place have an edge despite the current challenging retail climate. The Bold Metrics Virtual Tailor solution produces over 50 unique customer body measurements via its AI Body Scanning technology, with accuracy comparable to a Master Tailor, creating a fast, accurate, and frictionless online fitting process for new customers.
Here are three ways AI can help a brand boost conversion, reduce returns and personalize the shopping experience
1. Help your customers find their best fit easily and accurately
Poor fit is the number one reason for returning online apparel purchases, resulting in up to 52% of the total returns for some brands. Standard size charts still require customers to know their sizes or to measure themselves, which can result in human error. AI removes this complexity and confusion. By analyzing millions of data points from human body scans and comprehensive studies, AI and Machine Learning-led technologies can accurately determine customer body measurements to create detailed body models at scale and make best-fit sizing recommendations based on this consumer data.
2. Increase purchasing confidence
Bracketing (buying multiple sizes of the same item to return those that don't fit) is carried out by almost 50% of all shoppers, but AI can stem this and drive business growth by enabling apparel companies to scalably connect shoppers to their best fit accurately and easily. Results that provide fit contextualization across critical points of measure give customers the confidence to transact instead of getting frustrated by confusing size charts.
For the online fashion industry, AI-powered sizing solutions are invaluable. Disappointed customers hurt the bottom line. According to a PwC survey, 59% of customers will walk away after several bad experiences, and 17% after just one bad experience, such as frustration over trying to find your size while shopping for clothing online. Improving the sizing experience will boost conversion by supercharging the retail journey.
3. Personalization at scale
Size charts don't consider fit preference or account for the complexity of nuanced fit for garments across multiple body types. Different styles from the same brand can fit differently, depending on the cut and material. Sizing is often at the discretion of brands and subject to vanity sizing, much to the customer's disadvantage.
Customer body shapes also change over time as they grow, lose, or gain weight. Having an AI solution that captures individual consumer body measurements with high accuracy using simple inputs from customers is a game-changer. This consumer data can be combined with returns data and clothing specifications to generate actionable insights like the ability to design to demand or reduce unnecessary production.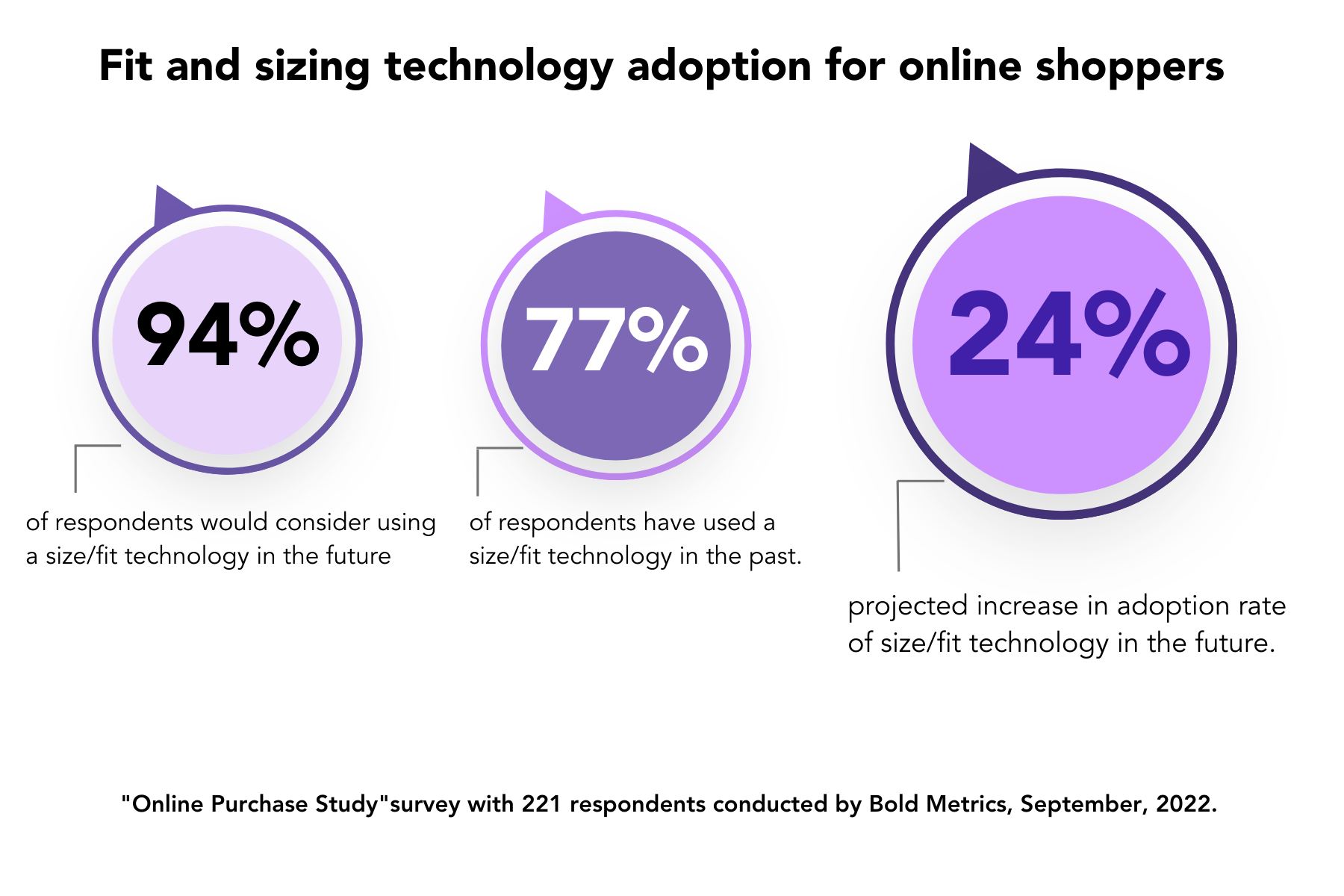 AI-powered size recommendations can get specific and granular by matching customers to their best fit according to individual garments on a style-by-style basis based on a brand's sizing specifications. Customers are confident to purchase knowing they will be connected to apparel that best fits their body shape and personal fit preference. A frictionless retail process aided by AI that continually improves the shopper experience helps boost positive brand perception and loyalty.
Get started driving conversion, reducing returns, and personalizing shopping with AI
With a customer-centric approach to sizing, Bold Metrics' AI Body Modeling technology contextualizes smart size recommendations based on a shopper's best fit for a highly personalized retail experience. Its Machine Learning models are trained on millions of data points that improve the accuracy of its size recommendations over time for personalized fit results tailored to the individual shopper. Learn how Bold Metrics has helped apparel brands and retailers boost average conversion by 20% while reducing return rates by 32%. Discover more at boldmetrics.com.
Related Links