First Chatbots, Now Apparel. How AI Is Powering the Future of Fit
Chatbots fueled by Artificial Intelligence (we see you, ChatGPT) are disrupting many industries - but what about Artificial Intelligence's impact on apparel and fashion? As technology advances, AI applications for the fashion industry will continue to grow - both in relevance and impact.
Fit and sizing has long been an archaic process for apparel companies - confusing size charts and designing blind have led to drops in conversion and skyrocketing return rates. However, with the advancements of AI, brands, and retailers have a powerful tool to drastically improve a once cumbersome process. Read on for an overview of artificial intelligence, the current state of fit and sizing, and how a better future is being shaped by unlocking the power of body data.
What is Artificial Intelligence?
Artificial Intelligence (AI) and Machine Learning (ML) are fields of computer science that can learn from data and perform tasks that typically require human intelligence, such as perception, decision-making, and language understanding. AI makes determinations similar to humans - it learns from past experiences (historical data) and improves as its learning and datasets grow.
AI and ML technologies are rapidly becoming adopted by the apparel industry due to their speed, accuracy, and precision. Across the value chain - AI and ML are being applied to improve efficiency, reduce costs, and enhance customer experience: Walmart has launched chatbots with their in-house "text to shop" model that allows shoppers to search for items and checkout via text message Kohls' is enhancing marketing with ML technologies, and French Toast is redefining kids apparel sizing with AI.
As apparel brands and retailers continue to grow, build resilience, and optimize the supply chain, AI and ML adoption will also grow – along with how they're used. No longer will AI-driven solutions be a "nice to have"; they'll be a "need to have".
Fit and Sizing: It's time for disruption
Historically, sizing systems have largely grown more complicated with time - new systems, standards, and methods of manufacturing have created a confusing maze for brands looking to get it right. From early sizing information drawn from WWI soldier measurements to the complications born from vanity sizing, there've been many twists and turns that further complicate fit and sizing for shoppers and brands alike. Fun fact: Marilyn Monroe was a size 12 in the 1960s, but today she would be a size 6!

Sizing uncertainty is a dominant driving factor for low conversion and high apparel returns. Sizing inconsistencies across brands translate to sizing uncertainty among shoppers, which is compounded by confusing size charts or a lack of clarity on how to understand product fit and sizing, especially when shopping online for clothing. This negatively impacts conversion as shoppers lose the confidence to transact.
Generous return policies without a proven sizing solution create high returns as customers buy multiple sizes of the same style to try on at home and return those that don't fit. Levis, for example, attributes 40% of its returns to sizing issues. At the same time, a Pitney Bowes survey of US online retailers showed that online returns cost retailers an average 21% of their order value.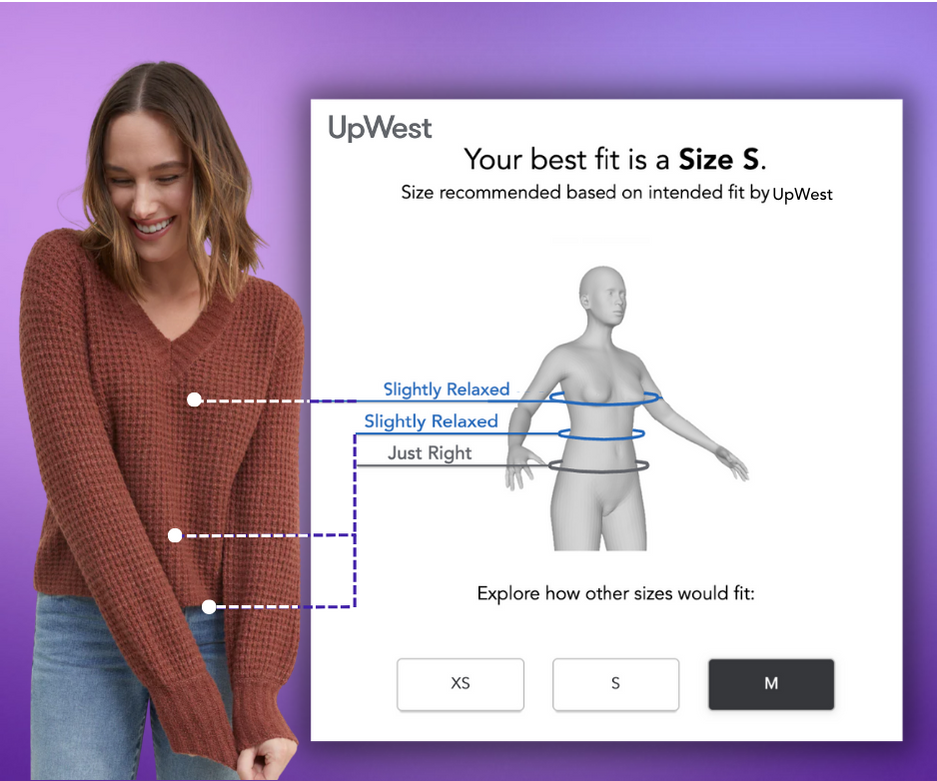 How AI is addressing fit and sizing challenges for the apparel industry
ML-based technology uses AI to determine detailed customer body measurements, which enables the technology to present a best-fit size recommendation to apparel shoppers. It all starts with ML models trained with enough data to allow a small number of inputs to drive predictions at a high level of accuracy. Bold Metrics has spent over eight years growing its AI Body Scan database and has generated over 66 million AI body avatars. Its proprietary ML algorithms are trained on over 2 million new body models a quarter and, with just a simple survey of four to six questions, can determine over 50 individual customer body measurements accurately in seconds. Its suite of AI solutions is tailored to fit the needs of the apparel industry - from the Virtual Tailor for custom clothiers to leveraging the Virtual Sizer or Smart Size Chart solution for clients looking for a scalable and speedy way to fit online shoppers accurately.
The benefits of AI for apparel brands looking to supercharge sizing
AI sizing solutions are easy to implement online and in-store and see greater accuracy in results over time because the algorithms learn via a feedback loop. Brands see increased conversion rates and reduced returns from providing their shoppers with accurate size recommendations. They also achieve an in-depth understanding of how their apparel fits the customer.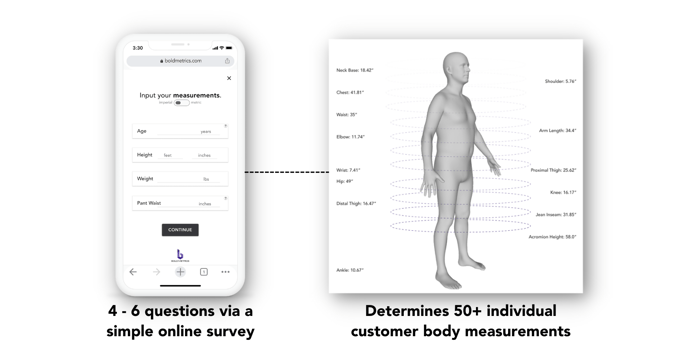 1. Predictive Analytics: AI and ML can analyze body data to determine detailed body measurements from just a few simple data inputs. For example, Bold Metrics' Virtual Tailor helped premium bespoke denim pants maker Blue Delta Jeans scale its business with a fast and seamless AI-powered fitting experience that can be conducted anywhere in the world.
2. Personalization: The retail experience for shoppers can be personalized through curated product recommendations based on shopper fit preferences and purchase and returns data. By elevating the fit experience and providing contextualized fit options based on individual shopper body measurements, Bold Metrics helps brands personalize the online shopping experience for all shoppers.
3. Data-led technical design: Designers can leverage Bold Metrics' data-led insights on fit and sizing to determine actual customer body data and base technical design decisions on real target market body data instead of fit models or sizing assumptions.
4. Reduced returns and improved sustainability: Bold Metrics reduces average return rates by 32% by providing granular fit details that show exactly how a garment fits around an individual shopper's body. Fewer returns mean fewer carbon emissions from the processing and transport of returns, while a significant percentage of returned apparel is diverted from landfill due to connecting customers accurately to their best size from the start.
"We've achieved a scalable sizing solution that is easy for our clients and their customers to adopt and use while simultaneously unlocking data-led insights to provide new tracks of retail intelligence throughout the organization."

—Daina Burnes, Co-founder & CEO at Bold Metrics
Brands that choose to ignore AI will lose a valuable tool to leverage consumer data insights and drive their business decisions with lightning speed, incredible accuracy, and unparalleled optimization. Bold Metrics AI solutions provide an easily-integrated, customizable approach to generate accurate size recommendations based on both a shopper's body shape and preferred fit. This enables apparel companies to make faster, more informed decisions and to create a more personalized retail experience to meet the needs of their shoppers.