An AI Solution That Simplifies Sizing for Apparel Brands
Are your shoppers serial bracketers who purchase the same piece of clothing in three different sizes? Most of the time, they aren't sure of their fit and didn't want to go through the hassle of returning and buying another size. If that sounds familiar, then your brand isn't alone. 63% of shoppers admit to bracketing, or buying more than one size of the same item to return it later (Narvar).
Unfortunately, fit-related returns cause significant dents in revenue for apparel brands, both online and in-store. Standard size charts require customers to measure themselves, a high-friction process that results in higher returns and lower conversions. And self-measurement to ascertain fit from a static size chart is prone to human error.
One study showed that self-measurement errors ranged from -4.54 cm (1.79 in) to +6.15 cm (2.42 in), resulting in customers potentially buying clothes at least one size off. Apparel businesses that use these charts experience an average return rate of 30% and a lower average conversion rate of 2% as compared to an average of 3.67%.
Brands don't want universal size charts. Think of a brand's clothing shape, the dimensions of each size, and the amount of ease in their clothes as a form of intellectual property; it's the secret recipe that makes each brand special and keeps customers coming back.

- Tracy E. Robey, Vox Media
The Smart Size Chart developed by Bold Metrics solves this problem. Using AI and machine learning technology, the Smart Size Chart replaces standard size charts to connect customers to clothes that fit better by creating a digital twin of each shopper and matching that digital twin with specific garment specs for an individualized approach to fit and sizing.
Being able to seamlessly amp up your customer experience by incorporating unique shopper preferences when it comes to how clothes fit is what elevates the online shopping experience and turns casual browsers into customers.
And it just gets better, literally. Machine learning differs from traditional predictive analytics or mathematical prediction algorithms by knowing when they are right and wrong. By training machine learning algorithms, the results become increasingly accurate over time. Think of it as you getting to know exactly what your customers like regarding fit and hitting the mark every time. Win-win.
How does the Smart Size Chart work?
Customers answer a simple survey online of four to six easy questions like age, height, and weight…nothing that requires a measuring tape or awkward selfies. From this input, our technology produces over 50 distinct and highly accurate body measurements layered with garment data to personalize apparel discovery based on individual fit. The user experience can be tailored to reflect your brand's unique style so shoppers are presented with a seamless brand experience that gives them fit confidence when shopping for clothing online.
For example: An XS snowboarding bib from Burton might fit a customer best across most garment dimensions but may be slightly snug around the stomach area. Bold Metrics' Smart Size Chart shows you exactly where the garment is, tight or loose, so your customer can decide based on their unique fit preference, just as they would in-store.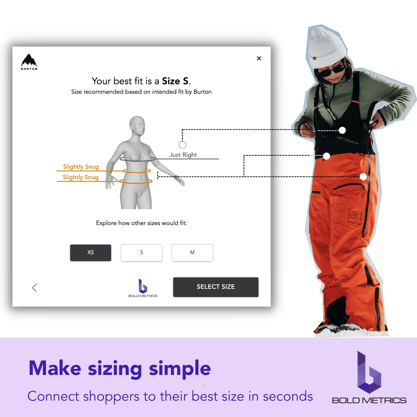 The Smart Size Chart allow apparel brands to ramp up conversion and significantly reduce returns. This AI-powered approach to solving sizing for apparel brands is trusted companies such as Canada Goose, Men's Wearhouse, Burton, and Vuori. By empowering apparel brands to connect their customers to better-fitting clothing with ease and accuracy, Bold Metrics creates a consumer-centric approach for brands to prioritize and delight their shoppers.
Highly personalized, easy-implemented, and proven to drive down returns rates while giving your customers the confidence to transact by boosting their fit confidence, the Smart Size Chart is an essential retail technology solution for any apparel brand looking to remain competitive and drive meaningful revenue impact.
Interested in how an AI sizing solution like Bold Metrics will impact your brand's conversion, revenue, and returns? Sign up for a demo and see for yourself.