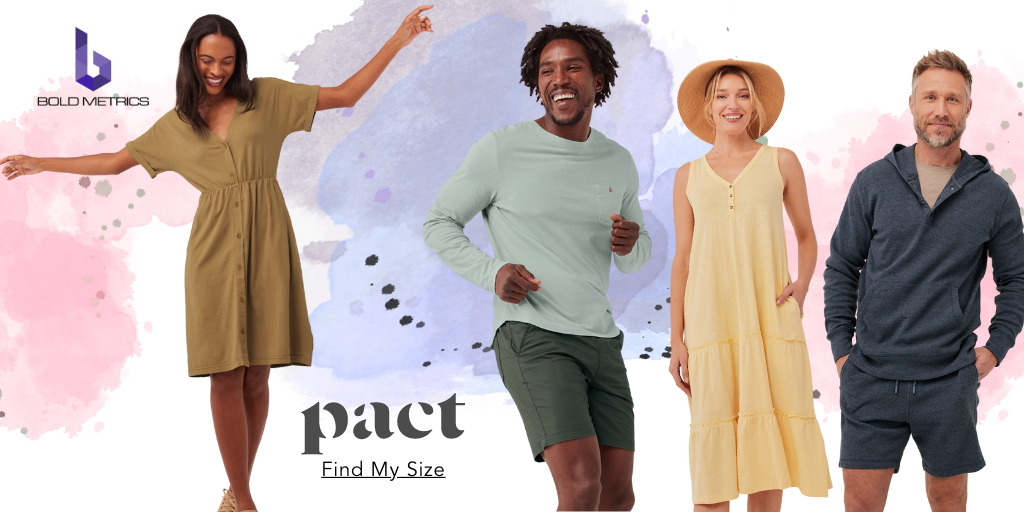 Bold Metrics and Pact drive sustainability through personalized sizing
In a strategic step towards promoting sustainability and customer confidence in online apparel shopping, Bold Metrics is powering fit for leading sustainable apparel brand, Pact. The collaboration introduces a 'Find My Size' solution powered by Bold Metrics, designed to help Pact customers find their best size across select products effortlessly and accurately.
Online apparel shopping, though convenient, often presents a daunting challenge for consumers - accurate size selection. A striking statistic reveals that 63% of online shoppers resort to bracketing, a practice of buying multiple sizes of the same item with the intent of returning ill-fitting ones. This new partnership aims to resolve this issue by providing an efficient, easy-to-use online sizing solution.
Through Bold Metrics' AI solutions, Pact aims to increase customer confidence in selecting the right fit, leading to a personalized shopping experience, higher conversion, and a significant decrease in returns due to sizing uncertainty. Bold Metrics' AI creates a digital twin of each shopper, determining over 50 unique body measurements from a simple survey that does not require photos or a measuring tape. These measurements are layered with garment data per style for unprecedented accuracy in determining a customer's best size in a specific style. By directly addressing the sizing challenge, Bold Metrics improves a brand's sustainability efforts by reducing returns and keeping them down.
By implementing Bold Metrics, brands have seen an average return rate reduction of 32% in some cases. Considering that consumer preference-based returns account for approximately 72% of all returns in the apparel product categories, with poor fit contributing to over half of these returns, the importance of resolving the sizing issue cannot be overstated.
The focus on sustainability goes beyond just business metrics. Returns are a significant contributor to environmental waste. US eCommerce apparel returns due to fit alone resulted in approximately 168,337 tons of landfill waste and 1,043,481 tons of CO2 contributed to the atmosphere annually.
"By helping Pact customers elevate the sizing experience and overcome sizing uncertainty, Bold Metrics reinforces our shared commitment to improving the customer experience and fostering a more sustainable approach to online shopping."

Daina Burnes, CEO of Bold Metrics
The partnership between Bold Metrics and PACT is an innovative step towards a more sustainable eCommerce environment. By harnessing advanced AI solutions to provide personalized sizing, they're boosting customer satisfaction and significantly reducing unnecessary returns and the associated environmental impact. This approach reflects a robust commitment to delivering a better shopping experience while contributing positively to global sustainability efforts.

See how Bold Metrics' solutions can impact sustainability efforts at your brand - calculate your brand's returns impact.