What Makes the Perfect Product Page: A Guide for Online Apparel Brands
Today's online shopper wants personalization from retailers throughout the customer lifecycle. And it's been shown that when personalization is done well, the rewards are plenty — an increase in acquisition, engagement, average order value (AOV), frequency of purchase, cross-sales, and more.1
From the moment they click onto your website to the moment they open the box with their purchase inside, customer experience is key. We want the customer to be excited, counting the days and looking at the window until the package arrives because they know it's going to be perfect.
But how do you do that? How do you personalize the shopping experience for each customer?
Of course, we could say that you should optimize your entire website, fine-tune your CTAs, create content that converts, etc.; but if there is one thing that will make or break your brand, it's the product page​​ — where all purchasing decisions are made. It's your last chance to entice shoppers to add your product to their cart and complete the transaction. You have to get their attention here or risk losing the sale.
No more bland lists of features and fabrics.
No more confusing size charts.
Build the perfect product page and convert casual browsers into repeat customers. Here's how.
Make It Simple
Repeat after us: An overwhelmed shopper does not turn into a customer. An overwhelmed shoppers leaves your website and never comes back. When it comes to the product page, keep it simple with:
High-quality, high-resolution images that actually show off the product

Clear and compelling product descriptions that actually tell what it does or why it's great

Give shoppers the most important information above the fold (at the top of the page before they have to scroll)

Create a smooth, streamlined process for actually buying your product (more on that below)
Make It Speedy
Don't let high-resolution images or videos slow your site down: 40% of consumers will abandon a website if it takes more than three seconds to load. Even a one-second delay can reduce conversion by 7% — that could result in hundreds or thousands of dollars lost.2
Make It Smooth
When someone goes through the entire process of evaluating what you have to offer and selecting a product, it's essential to clear a smooth path to checkout. First, help them find their size. Size charts can be confusing, brand comparisons rely on customers knowing their size in competitor clothing (and why would you want competitor logos on your site?), and self-measuring mobile scanners are unreliable. The best way to ensure your customer is finding their perfect fit is with an AI sizing solution like Bold Metrics.
Think of sizing tech as the engine powering the customer experience. It might not be the sexiest thing, but if it is running smoothly and connecting customers quickly and accurately to their best size, then the rest of the customer retail journey is just plain cruising. 
Your customer doesn't have to cross their fingers that the item will fit, nor will they have to bracket and rely on your brand having a forgiving return policy. An AI sizing solution enables customers to find their best fit without having to do any measurements, without having to register for anything and without ever leaving your product page.
The best part? The best size for each customer is determined with data-backed accuracy on a per-garment basis and takes their fit preferences into account (how's that for a personalized approach to fit?).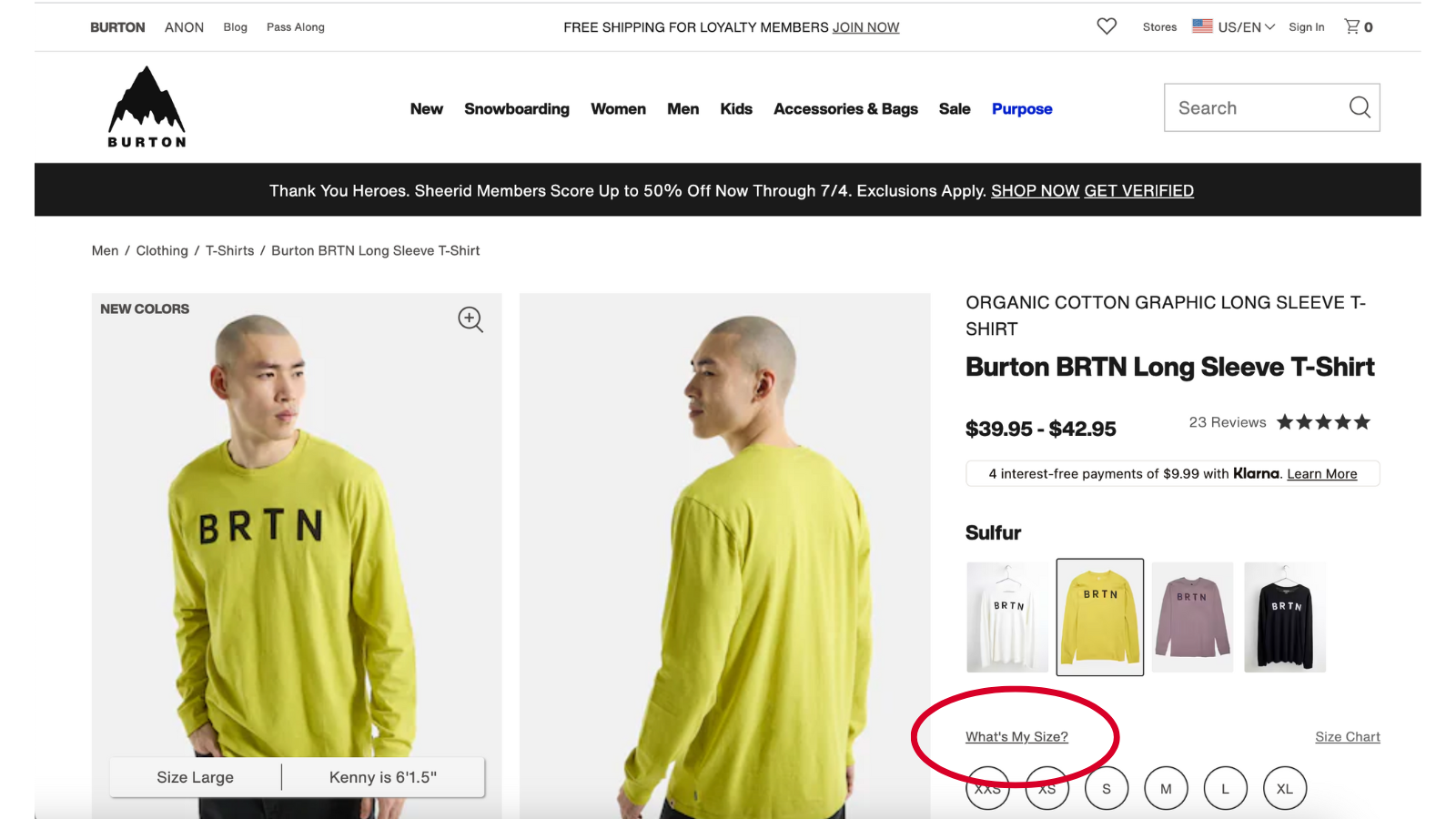 Make It About Them
Every brand wants to collect and store the information of the people shopping from them to use for marketing, upselling, etc. But shoppers hate not having a choice. 86% of adults who shop online don't want to create a new account every time they buy something. So resistant, in fact, that 54% of them will leave the site and probably won't return, 26% will go to another site to buy what they want (i.e. a competitor).3
The solution? Give customers the option to create an account after they place an order, instead of requiring it during the sizing or checkout process. Frame it as creating an account will help them track their order, make returns easier, and is a great time to talk about any rewards programs you might have in place. Think about it from the shoppers perspective and how registering will make their life easier after you already gained their trust, not before.
Make It Social
Customer reviews are social proof that your product is the real deal. Don't be shy about displaying them prominently on your product page — 93% of customers read online reviews before buying a product.4 Not only do reviews boost your credibility, but they also provide valuable feedback that can help you improve your product. And don't forget to respond to reviews, good or bad, to show that you care about your customers and their feedback.
We all know the pain of buying clothes online and hoping they fit and look like what was described on the website when they arrive. By creating the perfect product page, your customers can stop guessing and start buying. Now go forth and create something beautiful (and profitable).​​
Sources:
Personalization at Scale: First Steps in a Profitable Journey to Growth

. McKinsey & Company. August 2018.

Work, S.

What Customers Want in an eCommerce Site.

NeilPatel.com.

Research Reveals Consumers Increasingly Interested in Social Login to Alleviate Online Registration Headaches

. PRWeb. June 30, 2023.

Kaemingk, D.

Online reviews statistics to know in 2022.

Qualtrics.