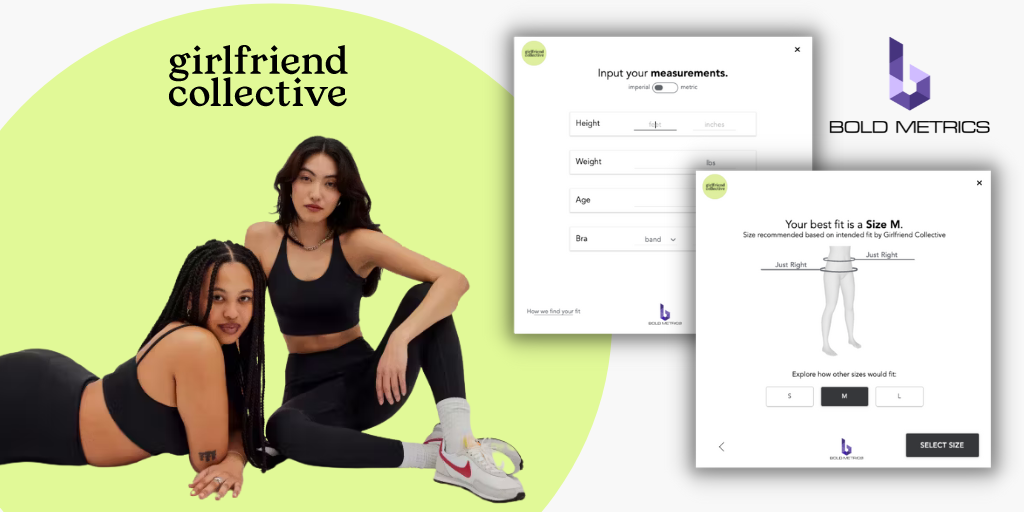 Girlfriend Collective Embraces Bold Metrics' AI Sizing Technology
Bold Metrics is thrilled to announce that we are now powering sizing for Girlfriend Collective, an eco-friendly activewear brand for women.
Poor fit accounts for 52% of clothing returns. According to Vogue Business, eCommerce returns in the US create 5 billion pounds of landfill waste and 15 million tons of carbon emissions each year. Reducing fit- and size-related returns can have a direct impact on a brand's sustainability efforts, while increasing their bottom line.
Committed to ethical manufacturing practices and transparency, Girlfriend Collective values customer experience and optimizing their operations to offer better-fitting clothing and reduce waste throughout the product life cycle. That's why they turned to Bold Metrics' AI sizing solutions.
Shoppers on the Girlfriend Collective website can use the Find My Size solution powered by Bold Metrics' AI-driven Smart Size Chart to find the best size for their preferred fit quickly and accurately. Brands and retailers using Bold Metrics' Find My Size solution have reduced their return rate by as much as 32%, while increasing conversion and average order value by double-digit percentages.
"More and more apparel businesses like Girlfriend Collective are realizing the value of customer body data and its many applications. Our data-driven solutions determine extremely accurate sizing recommendations for each customer."

Daina Burnes

Co-founder and CEO of Bold Metrics
Try our sustainability calculator to see the impact fit-related returns have on your brand — environmentally and economically.