3 examples of great UX in Apparel eCommerce
When a shopper enters a store, retailers do everything they can to optimize the customer experience. While high-end apparel brands are famous for top-notch in-store experiences (check out the Dolce & Gabbana store on Rodeo Drive in Beverly Hills), companies like Everlane and Urban Outfitters have also put a lot of thought into how the customer experiences their stores because they know that the better experience a customer has, the more they are likely to buy.
The same principle applies to online shopping, but not all apparel brands and retailers have yet mastered the art of user experience (UX). Sometimes, a minor tweak to the product page or a touch of creativity in the checkout process can make a difference. However, it's essential to measure these changes to understand their impact on the overall shopping experience.
Our team has scoured the web and picked three examples of great UX in Apparel eCommerce to inspire you to make that change that might improve your customer experience online. Enjoy!
Kule offers a seamless and visually appealing browsing experience. By showcasing their clothing collections with high-quality images and a clean, organized layout, they make it easy for shoppers to find what they want. Kule also incorporates simple navigation and filtering options to help customers sort through items.
Their tee shop (pictured above) is an example of how they make it simple and efficient for shoppers to find their favorite tees by filtering through styles, shapes, and patterns.
Asos (pictured above) does a very interesting thing at the top of their product listing pages, the brand sorts the navigational tabs into subcategories like 'style,' 'wash,' 'fit', and 'brand' to make it easy for shoppers to find just what they are looking for when it comes to jeans and then rather than listing the specific brands they list the category of jeans in the more informal way that a shopper might refer to them. This means a shopper can quickly sort by "Boyfriend Jeans" and "Ripped Jeans," which they might typically have to search for to find otherwise. Ultimately, this means the online shopper can get what they want faster, which is always a good thing.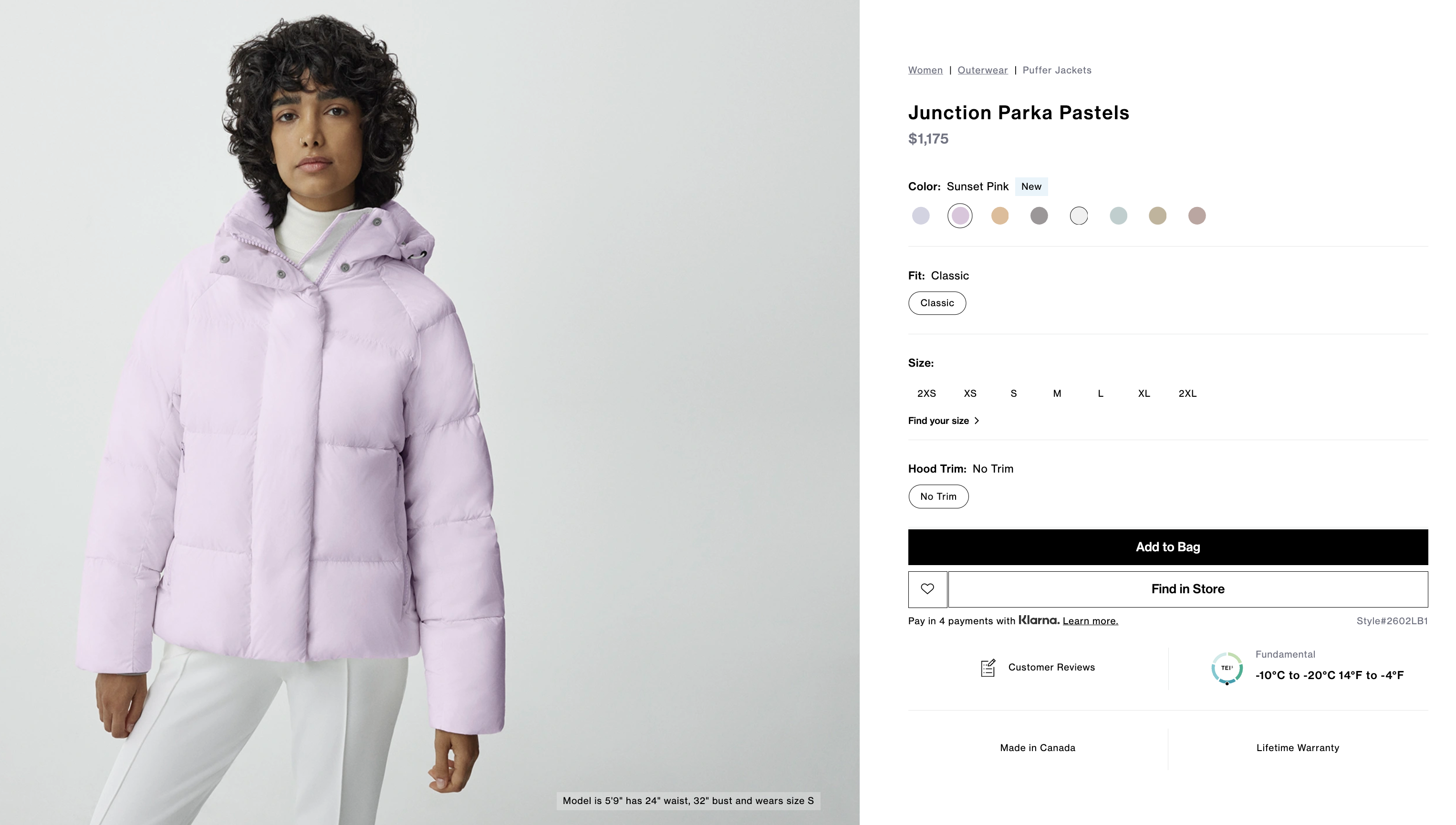 Regarding a great UX on a product page, it's fair to say that Canada Goose has nailed it. Breaking away from the traditional product page where the clothes appear in a small rectangle on the page, the Canadian brand offering luxuriously warm outerwear, apparel, and footwear has opted for large and striking product images that meld seamlessly into the page, creating a dynamic visual path for the shopper's eye to follow.
Each page also contains helpful information about the product, laid out intuitively so shoppers can browse and click to discover more about each piece. Model details are included so a person can see how a Canada Goose jacket fits the model and compare it with their size. Having the 'Find your size' tool located conveniently below the sizing options of select products also makes the shopping process easier, as shoppers just fill in a few simple details to be matched to their best fit.
Apparel brands looking to boost online conversion should take note of how these brands are making the most of their product pages to guide customers towards purchasing by enabling them to visualize the products and how they will fit, making product discovery and information finding a breeze and finally, having a convenient way to add to cart and check-out. A great UX will drive customer conversion, increase AOV and generate positive reviews, which is something all brands with an online presence should strive for.