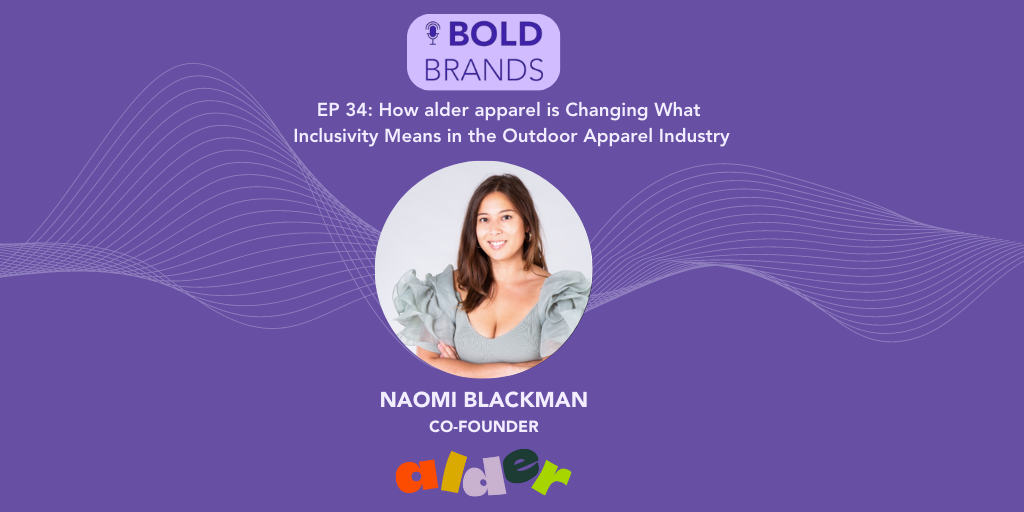 Podcast Recap: Ep. 34 with Naomi Blackman of alder apparel
In Episode 34 of the Bold Brands podcast, host Jeff Mergy talked with with Naomi Blackman, co-founder of alder apparel, about what inspired the creation of the brand and how they're changing what inclusivity means in the outdoor apparel industry.
Founded in Toronto in 2019 by Naomi and National Geographic Explorer Mikayla Wujec, alder apparel was created after noticing a lack of stylish, versatile, well-fitting, and size-inclusive women's apparel options for exploring the outdoors.
"We started talking about the options that were out there in outdoor apparel and realizing that it wasn't necessarily just the products that we were struggling to find that fit into our wardrobes, but also the brands that were out there at the time were really just focused on this single idea of who was outdoorsy. It was usually something hyper-intense focused — think somebody hanging off the side of a mountain," Blackman explained in the episode.
"We realized that everyone we were talking to is just saying that's not how they experienced the outdoors. That's not why they go into the outdoors. It's not about performance... a lot of people just love to get outside for the fun and the joy of it connecting with nature connecting with their friends. And a lot of people we were talking to just didn't feel like they could identify as outdoorsy because they didn't fit that single mold. So we decided to launch alder as a way not only to create better products for women that were more designed for women's bodies, and more designed to be inclusive, but also to create a brand that was more welcoming, and really celebrated all the ways that there are to be outdoorsy."
They also discuss what inclusivity means to the co-founder and how that affected the sizing options alder offers.
"Most outdoor brands only size up to a large or an extra large, and we just thought that doesn't make any sense. Over 60% of women, especially in the U.S. are above a size 12, which is a large, extra large maybe. We didn't understand why so many women were being excluded from outdoor apparel, so we size from extra small to 6x," she explained.
Blackman goes on to share why representation matters, how customer feedback drives their product line, why the brand is trying to change how women think about their clothing size, and what some of their biggest challenges are around creating a wide range of sizes for different body types and preferences.
Listen to the entire podcast episode below, or check it out on Spotify, Apple, or Google.