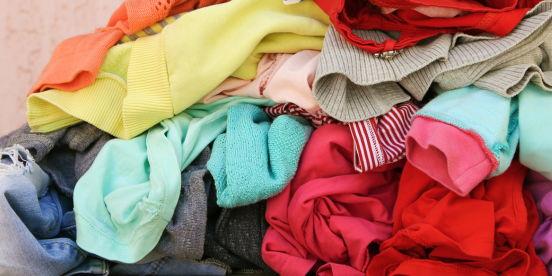 Measure and Minimize Your Environmental Fit-Return Footprint
You may have seen images of the giant pile of discarded clothing in the Atacama Desert, located between the Andes Mountains and Pacific Ocean in Chile. It's estimated that there are 60,000 tons of clothing from Europe, North America, and Asia in this growing heap, making it large enough to be seen from space.
The nearby port city of Iquique is a "free zone," meaning there are no tariffs, taxes, or customs-related fees.1 The idea for this influx of unwanted garments was to boost the second-hand sales economy, b​​ut instead has resulted in the aforementioned mound, plus days-long fires in an attempt to burn the surplus. Because many of the clothing items are made with synthetic materials or treated with chemicals, the fires release toxic fumes into the air. The clothing that isn't burned could take 200 years to biodegrade.2

But the blame doesn't fall solely on the apparel industry: The problem is made worse by the fact that today's consumer is buying more clothing and keeping each item for half as long.2
All this is to say that the fashion industry has a problem — but the good news is that together, ​​​​we can solve it.
There is a path to sustainable change for the apparel industry by reducing the adverse effects of the apparel product lifecycle so that fewer clothes end up in places like the Atacama Desert. At Bold Metrics, we use advanced AI technology to reduce returns, optimize operational efficiency, and eliminate wasteful production. By eliminating unnecessary production, powering efficient design, and reducing fit-related returns, we help brands scale their sustainability efforts.
Bold Metrics' solutions help:
Reduce fit-related returns and the costly emissions and landfill waste associated with them.

Shoppers find their best size to minimize bracketing or multi-size purchases.

Empower data-led design according to actual customer body measurements on a per-garment basis to create better-fitting products and less material waste.
Do you know your brand's fit-return footprint?
The best place to start is to deepen your understanding of your environmental and economical fit-return footprint, so you can identify where you can improve your processes and make a real difference.
At Bold Metrics, we're truly committed to a more sustainable future and that's why we created a way for apparel businesses to calculate your environmental impact. With a few simple inputs into our calculator, we'll share an estimation of your fit-return footprint.
The development of our calculator has taken over a year with multiple iterations, reviews, and input from a Ph.D.-accredited green chemistry consultant associated with one of the top graduate apparel programs. We've aimed to provide a directional calculation that can assist apparel brands and retailers in their sustainability journey.
We're happy to help if you're interested in learning more about how Bold Metrics can help improve your sustainability and reduce your environmental footprint.
Sources:
1. See the World's Unsold Clothing in a Huge Desert Pileup. Gizmodo. May 17, 2023.
2. Massive mountain of clothing in the desert is growing even bigger. The Hill. November 8, 2021.