How DXM uses fit tech to make apparel processes efficient and scalable
We speak with Josh Boddiford, CTO of DXM, to find out how DXM is developing a patent-pending industry standard.
DXM is transforming the apparel industry with an open SaaS platform that allows localized, on-demand manufacturing. Brands, retailers, and creators use the DXM platform to offer highly individualized apparel, footwear, and more and build brand loyalty while eliminating unnecessary waste.
We speak with Josh Boddiford, CTO of DXM, to find out how the company is developing a patent-pending industry standard.
"Bold Metrics' experience and fit data have added tremendous value for DXM and our customers. Tapping into the virtual tailoring that Bold Metrics offers allows DXM customers to be size-inclusive, something that many in the industry struggle with when balanced against excess inventory issues. Consumer feedback tells us that offering products for all body types are important. MTO and Customization can only work if brands can access "fit" data and tools. This is where the collaboration with DXM and Bold Metrics can help shape industry change."

- Josh Boddiford, CTO, DXM
Use case: Carhartt X DXM
Carhartt teamed up with DXM to create a personalization process for key items that members of their community could test out and customize according to their individual needs.
Carhartt wanted to provide its dedicated group of consumer product testers - the Carhartt Crew, with personalization options to meet its different needs.
To achieve this at scale, Carhartt partnered with DXM, to create localized on-demand manufacturing in a pilot program that allows the Carhartt Crew community to customize select workwear items from the comfort of their homes. The pilot was so successful that it is now live on the Carhartt site, allowing anyone to design their own unique Carhartt piece.
Customizable elements accounted for work function and usage type and included:
Fit and fabric

Pockets

Utility bands

Safety elements (protection layers)

Hammer loop

Size
The DXM customization software was integrated directly into the Carhartt website to ensure a seamless user experience. Crucially, fit and sizing were an important part of the process. The personalized fit experience addressed customer demands for a wider range of sizes and more customized fit options. With Bold Metrics powering the fit experience, customers could get accurate fit recommendations based on what would fit them best, along with personal fit preferences.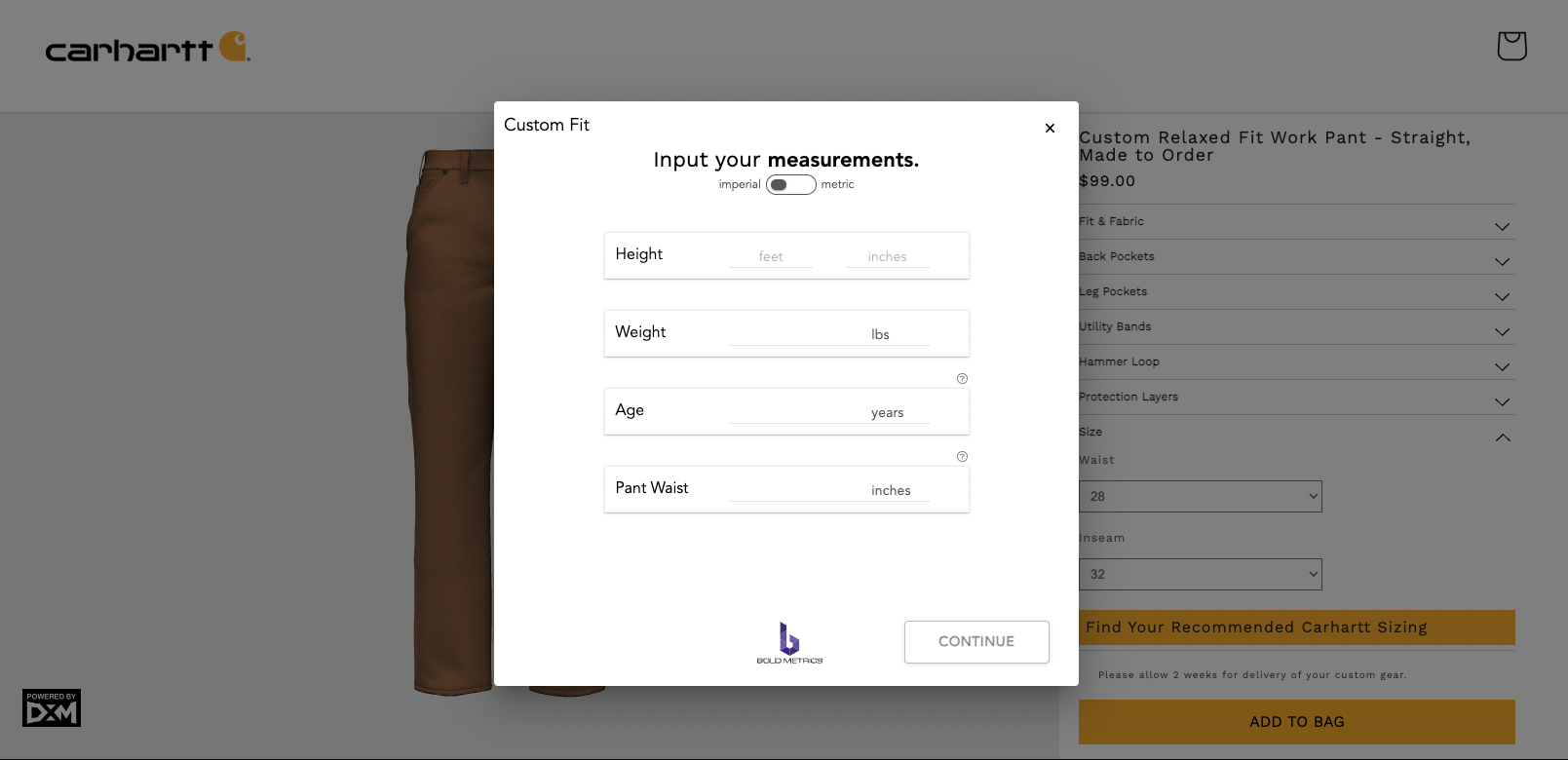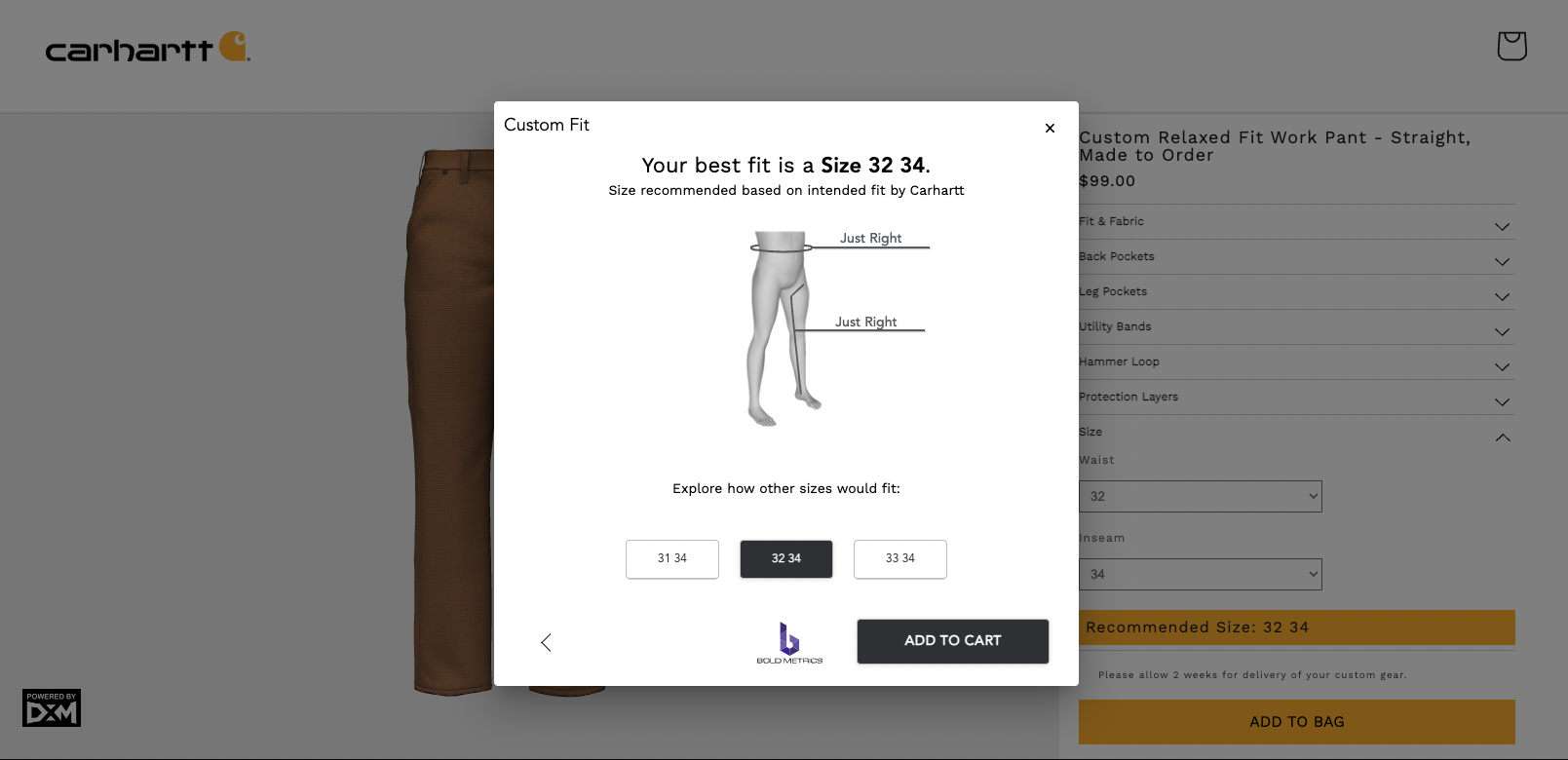 Bold Metrics AI sizing solutions help customers find their ideal fit quickly, accurately, and from the comfort of their homes—creating a smooth online experience when personalizing apparel items.
A recent Forbes article covering the pilot program highlighted the level of personalization the partnership presented and the instant value-add for Carhartt's customers.
"One advantage of customization is that it allows the company to offer specific size cuts for its most popular products. For example, a pant traditionally offered in inseam sizes of 32 or 34 can now be ordered in size 33." - Alex Guerrero, senior vice president and general manager of global products, Carhartt.
As one of the partners that powers fit on the platform, Bold Metrics solutions is part of the technology helping to connect customers to their ideal size in their preferred fit. With a simple online survey, customers get accurate and almost instantaneous results from the comfort of their homes. No need to step into a changing room or use a measuring tape.
Bold Metrics industry-leading AI solutions are fast, accurate, and easy to use. Our solutions power fit at brands like Canada Goose, Men's Wearhouse, and UpWest, to name a few, and helps apparel brands and retailers reduce average return rates by 32% while boosting conversion by 20% on average.