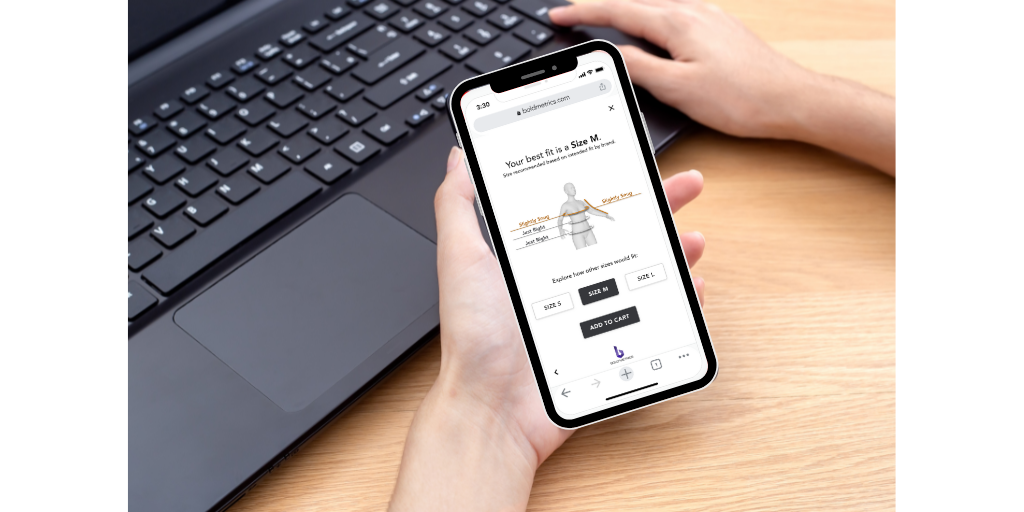 6 Key Reasons Why Your Brand Needs a Fit Strategy Now
Fit is a core component and essential consideration for any brand manufacturing and selling apparel. Customer body shapes and sizes can differ significantly, and a good product fit leads to higher conversion, better customer satisfaction, greater revenue, fewer returns, and better inventory management.
What is a fit strategy for an apparel business?
A fit strategy examines a brand's existing fit and sizing process, looking at how, for example, a company sizes its apparel products and how it grades its sizing to scale up or down a product's fit in the same style. A diagnostic is carried out on a brand's current size offerings and whether it uses fit models, size charts, video, product details, or virtual fit technology to address sizing concerns and help its customers better understand how a garment will fit and manage shopper expectations.
From there, areas of improvement/weakness are identified, and the right sizing solutions are matched depending on the need and desired outcomes.
Why do apparel businesses need a fit strategy?
Apparel brands can benefit enormously from a meaningful sizing strategy to scale their business, attract and retain more customers, increase AOV and conversion, and significantly reduce return rates to improve revenue. Let's dive a little deeper into the six main reasons why every brand needs a fit strategy.
1. High Fit-related Return Rates
High return rates eat into your bottom line and indicate that your brand's product fit does not match your consumers' desired fit or sizing. According to Business Insider, returns can cost as much as 66% of the price of an item to process1 — which quickly adds up to thousands or even millions of dollars of lost revenue annually.
2. Customer Experience Matters (More Than Ever)
When it comes to discretionary goods like fashion and apparel, the customer experience is central to conversion. Making it easy for shoppers to find their best size personalizes the retail journey. Elevating the fit experience has been shown to increase conversion and decrease returns (see how Canada Goose increased conversion by 16% after implementing Bold Metrics' Smart Size Chart).
3. Low Customer Confidence
Speaking of conversion, studies have shown that a lack of confidence around sizing leads to bracketing (purchase the same item in multiple sizes) and abandoned carts due to fit uncertainty disrupting the consumer retail journey at check-out. It's been shown that 48% of consumers bracket when sizing options are not clear.2
4. Technical Design Optimization
Giving designers access to actual customer body data and target market size measurements provide invaluable insights to inform technical product design. Create a scalable business model by leveraging geographical sizing data to enable brands to expand their size offering to match real customer body data.
5. Inventory Management Challenges
Unforeseen supply chain challenges, stockpiling in response to COVID-19 disruptions, and rapidly changing consumer demand have led to retailers sitting on a record $732 billion of inventory as of July 2022, a 21% increase from a year ago3 — a sizable challenge for any brand.
6. Sustainability Initiatives
The total US eCommerce apparel returns due to fit in 2021 resulted in approximately 168,337 tons of landfill waste.4 Considering that more than 50% of returns are fit-related5, a data-driven sizing strategy can significantly impact this number.
Want to learn more about apparel sizing best practices for brands and retailers? Download our white paper and create a meaningful sizing strategy in no time.
Sources:
1. Hartmans, A. Shoppers Are Expected to Return Up to $120 Billion Worth of Holiday Gifts This Year — the Process is Costly to Retailers, Annoying to Consumers, and Harmful to the Planet. Business Insider. January 8, 2022.
2. Leading reasons for bracketing online purchases in the United States in 2022. Statista.
3. Bhattarai, A. Retailers' stockpiles mean deep holiday discounts starting now. The Washington Post. October 10, 2022.

4. Constable, H. Your brand new returns end up in landfill. BBC earth. July 2, 2021.

5. Dopson, E. Ecommerce Returns: Expert Guide to Best Practices. Shopify. August 25, 2021.