The Fit & Sizing Strategy Checklist for Apparel Brands & Retailers
How to empower your apparel brand to boost conversion, retain customers, and reduce returns by optimizing fit and sizing.
Determine where your brand is regarding apparel product fit and sizing, and learn which solutions would work best depending on your brand's growth and needs.
Here is a quick list to ascertain if your brand needs a sizing strategy to optimize fit, reduce returns, drive sales and enhance the customer retail experience.
New year, new resolutions
The post-holiday period is a stressful one for brands and retailers. From dealing with unsold inventory to missing sales targets due to unforeseen supply chain crunches to flagging consumer demand as customers try to make the most of their dollars amid high inflation rates.
This month brands will face post-holiday purchases coming back in the form of returns. For example, Aunt Sally's oversized jumper or those jeans you purchased online after a couple of glasses of holiday wine that didn't fit despite best intentions - now bundled off to be returned.
Some returns can't be helped, but you'd be surprised how most apparel returns are avoidable with the right sizing solution. Over 50% of clothing returns are due to poor fit (Shopify), which makes having the right fit and sizing strategy crucial for clothing retailers and brands looking to optimize their bottom line.
As we dive into 2023, let's make it a perfect fit with this quick guide to help your brand drive sales, increase AOV and reduce returns while personalizing retail for every one of your customers.
One: Supercharge the shopper experience around fit and sizing
Convenience is (still) king.
Give customers a seamless retail experience by elevating fit and making it easy (like waaay easier) for them to find their best size when shopping online. Make it simple and intuitive for them to select a product, find their best size, add to cart, and then check out.
Super personalized shopping experiences.
Fit is personal. Every body is different, and even people with the same size have different fit preferences. Create a more personalized and inclusive experience for your shoppers by providing them with contextualized fit options that show how a garment fits across critical points of measure style-by-style.
Customer feedback about fit is one of the most crucial ways of learning how your target market likes their clothes to fit and how they want your products to fit them. Your designers can design according to how they want their clothing to be worn or intended fit, but your customers might have a different idea. Bridging that disconnect with customer feedback and insights will help you create better-fitting products, reduce returns and give shoppers products they'll buy…and keep.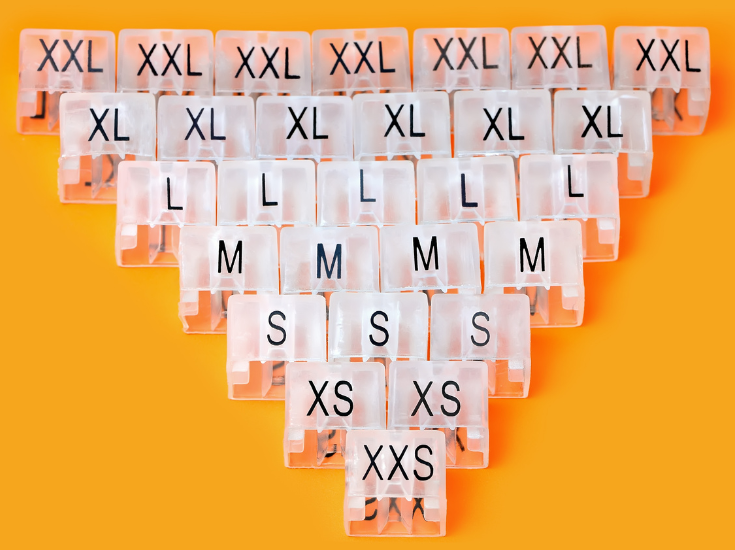 Two: Making returns a thing of the past…Now
Optimize your product sizing
Remove the guesswork by leveraging real customer body data to inform technical product sizing. AI and Machine Learning technologies now provide highly accurate solutions for brands looking to build a scalable consumer body data library based on actual shopper measurements to inform design, product development, and marketing.
Create a robust product display page with detailed on-model measurements for shopper comparison, clear product imagery, and consider using videos to show customers how a garment fits on the model. Videos have the added benefit of showing how movement affects fit while presenting fabric stretch and material drape. The more information the customer has about how a garment will fit, the more confidence they will have to buy it (and keep it!).
Make the data work for you
Set up a working process for consumer feedback and returns data to be integrated and analyzed, to drive actionable data-backed insights on products, customers, and returns so your eCommerce and Operations teams can close the loop on returns. A centralized data dashboard will provide strategic insights for teams across the organization.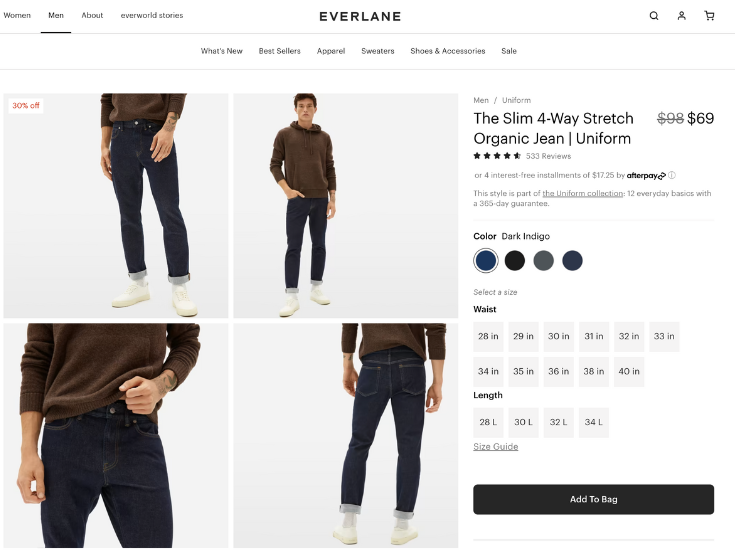 Clear imagery showing how a product fits a person helps shoppers visualize the fit and sizing better. The challenge is finding models representing your customer demographic for a more accurate sizing comparison, as not everyone is a 6-foot model.
Three: Boost Conversion
Ensure customers have an easy, accurate, and helpful way to find their best size by making sure the sizing tools are visible on your product display page to create an optimized web user experience - one that will drive impactful conversion. User testing is a great way to find out what is working and what isn't. You might have a gorgeous website, but is it a website that brings your customers fluidly from discovery to checkout?
Smart sizing options that go above and beyond
Excess inventory was a real problem for brands like Target, Walmart, and Abercrombie & Fitch in 2022. By automatically providing the next best size recommendations based on stock availability, brands can leverage real-time data to generate actionable insights that provide inventory management solutions for both online and in-store to address dynamic supply chain issues.
Use sizing to grow customer loyalty.
Go beyond connecting customers to their ideal size and make targeted product recommendations based on individual shopper fit and style preferences to boost AOV. Smart product suggestions based on a customer's prepopulated sizing details make it easy for shoppers to find items they'll love, with the confidence that they will fit the way they like them.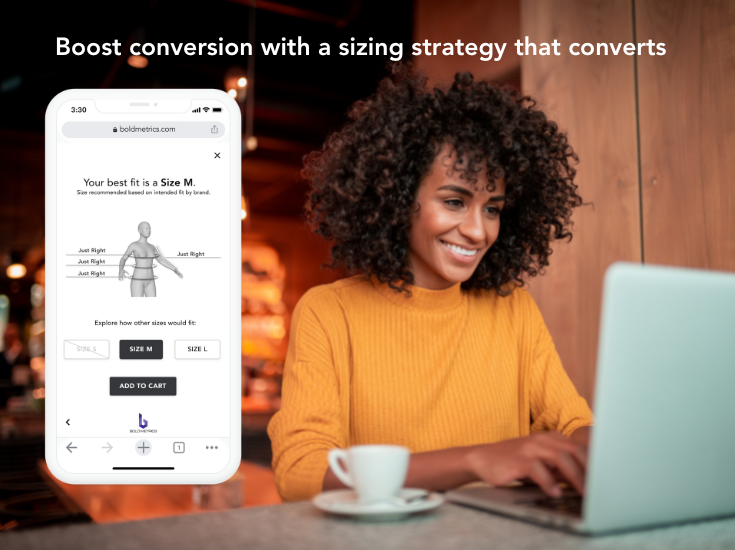 Get on track to supercharge sizing:
In a challenging retail environment, a solid sizing strategy can optimize your organization's operations and help improve the bottom line by driving conversion and reducing returns - ensuring apparel that is bought stays sold instead of coming back as margin-eating returns and frustrated customers. Learn more about how Bold Metrics' AI Body Modeling technology has been helping apparel brands drive conversion and reduce returns while enhancing the retail experience for customers.